UPDATE: The Official Teaser Trailer is here!
UPDATE: According to The DisInsider superstar comedian Kevin Hart (Jumanji: Welcome To The Jungle) is rumored to be Disney's top choice to voice Mushu.
The film is currently in post-production and a trailer is expected to drop sometime in April. Stay tuned.
UPDATE: As you may not know, besides being one of the most well-known martial arts actor in the world, Donnie Yen once feature a bit of his singing talents when he sang the theme song to his 1995 smash hit tv series Fist Of Fury.
He may get a another chance to showcase his singing chops as Disney Insiders reports that Mulan will feature music from the original animated film such as "I'll Make A Man Out Of You" and "Reflection".
It is also reported that the fire breathing sidekick Mushu is expected to appear in some capacity. However, there is no words on if Eddie Murphy will return to voice Mushu.
UPDATE: The first official look at Liu Yifei as Mulan has been revealed (above) along with news that martial arts veteran Cheng Pei-Pei (Crouching Tiger, Hidden Dragon) has been added to the all-star cast.
Jason Scott Lee (Dragon: The Bruce Lee Story) is also set to reunite with his Crouching Tiger, Hidden Dragon: Sword Of Destiny co-star Donnie Yen as he is joining as villain Bori Khan, the muscle to Gong Li's character. Khan is described as "a warrior leader who is intent on avenging his father's death".
SOURCE: Hollywood Reporter Comicbook
UPDATE: Rising star Yoson An (The Meg, Mortal Engines) has joined the cast as Chen Honghui, an ally and love interest to Liu Yifei's Mulan.
Chen Honghui is a confident and ambitious recruit who serves under Commander Tung, played by Donnie Yen. This character should not be confused with the popular Li Shang, the Chinese army captain who was the main love interest in the original Disney animated film. Li Shang will not be featured in the live action version.
SOURCE: The Hollywood Reporter
UPDATE: RON YUAN (Netflix's Marco Polo) and UTKARSH AMBUDKAR (Pitch Perfect) has joined the cast!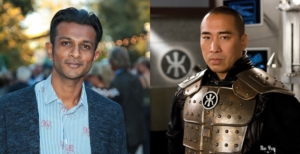 Ambudkar will play a con artist named 'Skatch' and Yuan will portray the loyal 'Sergeant Qiang', second in command of the Imperial Regiment.
SOURCE: Deadline
UPDATE: MULAN is beginning to put together an all-star cast as martial arts superstar JET LI (Hero) and GONG LI (The Curse Of The Golden Flower) is in final talks to join the previously announced DONNIE YEN and LIU YIFEI.
Li is set to play "the emperor of China, who orders the mobilization of troops via the conscription of one male from each household" while Gong Li will portray the villain, a powerful witch.
'Mulan' will mark the third collaboration between Yen and Li after the fan favorite 'Once Upon A Time In China 2' and Zhang Yimou's award winning 'Hero'.
SOURCE: The Hollywood Reporter
UPDATE: Martial arts superstar DONNIE YEN (Ip Man) has officially joined the cast of MULAN as 'Commander Tung', a mentor and teacher to LIU YIFEI's 'Mulan'.
This will be Yen's second project with the 'Disney' family after starring as the blind warrior 'Chirrut Imwe' in 2016's blockbuster hit 'Rogue One: A Star Wars Story'.
SOURCE: Deadline
UPDATE: The release date for MULAN has been pushed back to March 27th, 2020.
SOURCE: NBC News
UPDATE: Disney's live action MULAN has found its leading lady in LIU YIFEI aka CRYSTAL LIU. Liu is best known for starring opposite martial arts legends Jet Li and Jackie Chan in 2008's 'The Forbidden Kingdom' and Gordon Chan's 'The Four' trilogy.
Production is set to start in early 2018.
Stay tuned!
SOURCE: Hollywood Reporter
UPDATE: Fans might actually get their wish as MING NA WEN is in talks to make a cameo in the upcoming MULAN featured film!
Wen recently spoke on a panel at the Heroes & Villains fest in Nashville and a question came up regarding her involvement in the film and if she has been asked by the studio. She answered:
"All of the above. I'm hoping. I mean, I've spoken to one of the producers on the film, and they're still in the very early stages of it. So, we're keeping an eye on it, and hopefully, yeah, It would be lovely too, I think, for the fans as well as for myself, right?"
SOURCE: ComicBook.com
After the success of 'Alice In Wonderland', 'Maleficent', 'Cinderella', and the soon to be mega-hit 'Beauty And The Beast', DISNEY is on the fast track with their next live-action remake, MULAN.
Director NIKI CARO (The Zookeeper's Wife, Whale Rider) is set to helm with Hong Kong mega producer BILL KONG (Crouching Tiger, Hidden Dragon, Hero) serving as executive producer.
After the recent public backlash regarding Caucasian actors taking on lead roles in Asian themed movies (Ex. The Great Wall, Ghost In The Shell, etc.), producers Chris Bender, Jason Reed and Jake Weiner want fans to know that 'Mulan' will be "culturally authentic" with all the main characters remaining Chinese. They even went as far as trying to get an Asian director for the film in ANG LEE (Crouching Tiger, Hidden Dragon), but Lee unfortunately could not commit to the project due to scheduling conflict.
VICKI ZHAO (Painted Skin, Red Cliff) previously played the legendary woman warrior in 2009's 'Mulan: Rise Of A Warrior' directed by Jingle Ma.
Hollywood actress JAMIE CHUNG (TV's Gotham) also portrayed 'Mulan' in the 'Once Upon A Time' TV series from 2012 to 2016.
MING NA WEN (TV's Agents Of S.H.I.E.L.D.) voiced the original character back in 1998. Hopefully Disney can cast her in the upcoming film as a nod to the fans. Obviously not as 'Mulan' (due to her age), but perhaps Mulan's mother?
Casting is currently underway in Mainland China. Who would you like to cast as 'Mulan'? Comment below.
SOURCE: Hollywood Reporter