UPDATE: CHAD STAHELSKI has been officially announced to return as director for JOHN WICK: CHAPTER 3 with Japanese actor HIROYUKI SANADA (Rush Hour 3, The Last Samurai) cast as the film's villain, head of a Japanese crime syndicate.
Leading man KEANU REEVES will be reunited with Sanada after having worked together on 2013's '47 Ronin'. Additionally COMMON (Suicide Squad), LAURENCE FISHBURNE (The Matrix), and RUBY ROSE (xXx: Return Of Xander Cage) is all set to return to reprise their roles from 'Chapter Two'. Casting is also underway for an actress in her late 20s to early 40s for an unidentified role.
Production start date is set for April 26th, 2018 in New York and Montreal, with possible additional photography in Russia, Spain, and Tokyo.
Stay tuned!
SOURCE: TheHashtagShow, Screenrant
UPDATE: 'John Wick: Chapter Two' grossed over $165 million worldwide, so to no surprise a third chapter is on the fast track. Director CHAD STAHELSKI revealed some details on the direction 'Chapter Three' is moving forward with by stating:
"We want, not so much to go bigger on the third one, but to show you more of the intricacies of the world… I feel like there are all these different subtleties that I skipped over in Number Two, that I'd like to go back to on [chapter three] and show you the inner workings of different parts of New York. So rather than massive set pieces, I'd like to show you cooler and more intricate ones… I think it would be a mistake budget wise and creatively to just go big and blow up a freeway. That's not our gig. That's a comic book or a Bond gig. We want to show you cool and intricate details. What are those little details in everyday life? Hopefully – we make people look at garbage collectors and cleaner vans and homeless people a little differently now."
Asked if Stahelski will return to direct, he replied "Currently I'm acting as prep director. Hopefully everything will work out time wise. Of course — I would love to…"
Pre-production has officially started and casting is set to begin after the holidays.
A release date for the third installment of the 'John Wick' franchise is targeted for May 17th, 2019.
SOURCE: Collider
'John Wick: Chapter Two' have not even hit theaters yet, but director CHAD STAHELSKI revealed that a third film to cap off the trilogy is already in the works!
Stahelski told COLLIDER: "The studio has asked us to put our heads together and see if we can come up with something. Winston's [McShane] is a big part of the next one, so is Lance Reddick. We've got some ideas."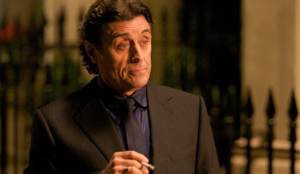 'Winston' as we all know is the man running the 'Continental', the assassin hotel featured in the first 'John Wick'.
But not to look too far ahead, lets turn our excitement towards JOHN WICK: CHAPTER TWO which is set to hit theaters on February 10th, 2017!