UPDATE: Have a look at the Super Bowl Spot below!
UPDATE: Check out the exclusive D23 Expo Poster featuring JOSH BROLIN as 'Thanos' and the FIRST Trailer below!
UPDATE: Take your FIRST look at AVENGERS: INFINITY WAR now in production!
UPDATE: Directing duo THE RUSSO BROTHERS (Captain America: The Winter Soldier) have been confirmed by Badass Digest to take over for Joss Whedon (Avengers: Age Of Ultron) on AVENGERS: INFINITY WAR PART 1 and 2!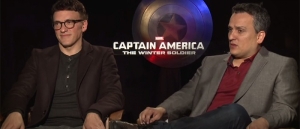 The pair will shoot the two part epic back-to-back in 2016 and 2017 once they wrap up CAPTAIN AMERICA: CIVIL WAR.
UPDATE: With the recent announcement of SPIDER-MAN joining the MARVEL CINEMATIC UNIVERSE and a new 'Spider-Man' film due out on July 28, 2017, a few Marvel films have shifted its release dates:
"Thor: Ragnarok will now arrive nearly four months later than planned, moving to November 3, 2017 (from July 28). Black Panther, which previously held that spot, gets delayed eight months, going from that original November 3 date to July 6, 2018. That, in turn, bumps Captain Marvel to November 2, 2018 and moves Inhumans all the way to July 12, 2019. The two-part Avengers: Infinity War, meanwhile, remains set for release May 4, 2018 and May 3, 2019."
SOURCE: ComingSoon.net