A veteran in the Hong Kong film industry and a member of martial arts superstar Donnie Yen's world renown choreography action team, John Salvitti (Pound Of Flesh, Special I.D.) makes his directorial debut with the psychological action thriller Ambush.
Described as 'Fight Club' meets 'Death Wish', the film follows "KAL, a visitor to LA suffering from PTSD and on the verge of carrying out a lone wolf attack, only first he must rescue his girlfriend from her assailants. Question is, who lives, who dies & who was merely a fragment of ones imagination?" The story lets fly on issues we see everyday in today's media. A constant barrage of violence, shootings, bullying and political tensions. Issues that are so burdensome they are driving some to engage in violence.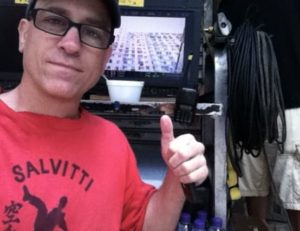 Salvitti also wrote the script and edited the film himself which will deliver more on phycological gun violence more so than martial arts style action. "It's sort of in the vein of 'Fight Club' with the PTSD & split personality" stated Salvitti, "I really wanted to explore why & what goes on in the mind of a troubled common man suffering with societal PTSD and hearing voices telling him to engage violence. The demons scream in his head, insulting him, bully him and imploring him on to engage the violence. The plan is delayed when KAL'S unsuspecting girlfriend Terri is assaulted and Kal is now forced to intervene. Word to the weary. "See something say something".
The cast includes New York theatrical actor Maxx Black, Vietnamese theatrical actress Sai Thien Le, and Italian model Sabrina Bertaccini.
Stay tuned for a release date.